Honeyguide Khoka Moya Camp

Manyeleti Game Reserve, South Africa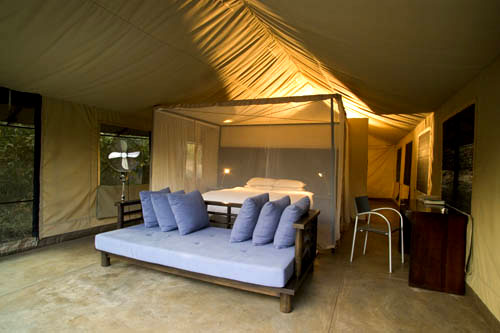 Honeyguide Khoka Moya Camp is situated on the western border of the Kruger National Park in prime Big Five Country - in the beautiful and un-exploited 23,000 hectare Manyeleti Game reserve. In the vast Manyaleti, Honeyguide feels utterly remote, yet is a short flight or a scenic 5 hours drive from Johannesburg. At Honeyguides Khoka Moya Camp, guest accommodation is in exclusive tented-suites, offering the nature lover a close encounter with the sounds and ambience of wild Africa without sacrificing safety or comfort. True to its Shangaan name, Khoka Moya provides the ideal venue "to capture the spirit" of the African bush and experience the essence and exhilaration of living close to nature.
It is a haven to those in search of solitude, silence and contemplation. The camp has been designed to reflect the simplicity and openness of African living. Using the universal building material of corrugated iron, reminiscent of the houses of the early gold prospectors, and aged planks recycled from a previous wooden structure, Khoka Moya has been created to a traditional African plan. The communal lounge, dining and bar area encircles an open artrium where al fresco evening meals are served around a massive log fire. The climate-controlled wine cellar offers many fine South African vintages to meet your personal tastes. Manicured green lawns flow throug to the pool and outside bar.
Honeyguide Khoka Moya Camp at a Glance
Accommodation in large en-suite tents that are comfortably furnished in a contemporary yet comfortable style
Each room has a washbasin, waterborne toilet and a hot and cold water shower and bath en-suite.
Night and day game drives.
Walking is the most emphasised activity.
Honeyguide Khoka Moya Camp Accommodation
The large en-suite tents are comfortably furnished in a contemporary yet comfortable style and have either twin or double beds madeup with fine cotton sheets and down duvets. Each tent has a double shower and separate toilets. The private veranda in front of the tent provides a restful seating area for you to absorb the atmosphere in peace and tranquility.>
Activities
Guests wake each morning to the sound of beating drums. Following early morning refreshments served in the tents, activities at Honeyguide include game drives in open game viewing vehicles in the early morning and late afternoon or evening. The morning drive is followed by a sumtuous breakfast, after which guests can relax at the pool, participate in a short foot safari with one of the guides or view passing game from the hide at the waterhole next to the camp. During game drives, refreshments and complimentary snacks are served at scenic spots.
Family Safaris
Honeyguide Khoka Moya Camp offers an educational program for children of all ages aimed at catering for children. Parents wishing to visit a luxury private camp in the greater Kruger National Park area are able to have the peace of mind that their children are welcome and cared for.
The children's program is mainly safari-orientated, sharing the knowledge and wonders of Africa, and also includes an activity centre, supervised by the camp staff, offering a variety of activities such as beadwork, cookie making, drawing and reading. The centre is stocked with a DVD player and a variety of animal and nature related movies, toys as well as a small library aimed at a younger readership. Children are welcome to go on walks with their parents. We have also added a short (1 hour) drive for the children after breakfast where time will be spent looking at some of the small wonders of the bushveld.
The Khoka Moya swimming pool has a children's area and we can supply inflatable arm bands if required.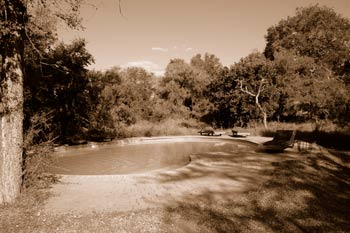 We appreciate that children often have different dietary requirements so we have introduced an optional menu as an alternative for children, with food such as pasta, fish fingers, hamburgers, hotdogs and ice-cream.
The large tents at Khoka Moya measure some 60 square meters and can comfortable house a family of four all under the protection of mosquito nets.
Our rate for children under the age of 12 years is 50% of the adult rate and is based on the child sharing a tent with the adult. There is no charge for children under the age of 3 years.