Punda Maria Rest Camp

Kruger National Park, South Africa
Punda Maria is the most northern rest camp in the Kruger National Park, 10 km from the Punda Maria Gate. The camp is situated in the Sandveld region which may described as the most botanical diverse biome in the Kruger National Park. Numerous plant species occur which are unique to the Punda Maria area. Wildlifes most likely to be sighted include impala, zebra, buffalo, elephant, eland and sable antelope. The rare roan antelope and sharpe's grysbuck are also found here.. The area is a birder's mecca.
Punda Maria at a Glance
6-bed Bungalows (two have been adapted for physically impaired persons)
2 and 3 bed Bungalows
Bungalows air-conditioned
2 bed Safari tents - ceiling fan
Camping: There are 40 sites available.
Camp Walk (Paradise Flycatcher Trail)
Restaurant
Swimming pool
Laundromat
Petrol station
Guided night Drives
Guided early morning Drives
Punda Maria Accommodation
The Mangwa Restaurant and Shop is the oldest complex in the Kruger National Park dating from the 1930's. The fully licensed restaurant and menu has varieties ranging from a light to a full breakfast, available throughout the day. An a la carte menu is available for the evenings. The adjacent shop will cater for the basic needs from Curios to meat, cleaning material, unscheduled medicine, liquor and more, 7 days a week.

Punda Maria is in a summer rainfall area. Next to the Pretoriuskop region it has the highest average annual rainfall in the park at around 650mm per annum. Such precipitation is often convectional and can result in heavy downpours. The summer months (October to April) are hot and can be humid. Winters are warm and mild, although visitors going on the early morning or night-drives will require warm clothing.
2 & 3 Bed Bungalows - Punda Maria Rest Camp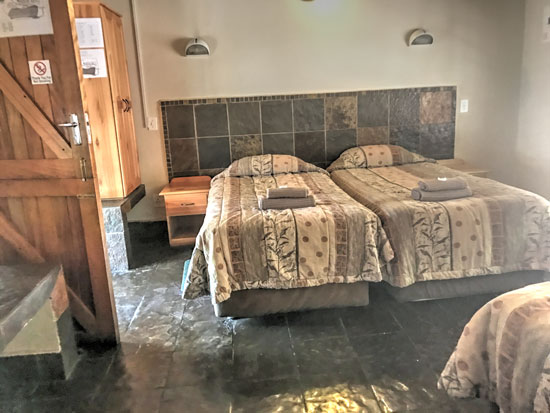 2 Bed Safari Tents - Punda Maria Rest Camp